Are Outdated Apartment Signs Costing You Business?
---
---
It's a bit like online dating. You've met someone new, and they're cute! Your interest is growing. This really seems like someone you can see yourself with. The first date is set. You've decided to meet at one of your favorite local spots, and the anticipation of that first meeting gives you butterflies.
Finally, it's time. You await your date's arrival. Someone approaches you, but it's not quite who you expected. They don't look like the pictures you've seen online. Perhaps they've aged a bit, or maybe the pictures were taken from better angles. The disappointment sets in. You've been duped. Can you recover from the initial shock and disappointment long enough to get to know the individual? Only time will tell.
Don't be like that careless online dater. Property signs, whether it's a monument sign or a building sign, are the first impression and representation of your apartment community. Potential renters may have already checked your property out online and like what they see. But if the reality doesn't match the online depiction, they may never step foot inside your leasing office.
Your Apartment Signs' Lasting Impression on ROI
Visual representation of any business, including an apartment business, is absolutely key in the decision-making process for your potential customers and tenants. According to the book, Atomic Habits: Tiny Changes, Remarkable Results by James Clear, 90 percent of the brain's analysis and decision-making is tied to visual cues.
One of our clients, CAF Management, saw an 18% increase of rent per square foot after rebranding one of their properties. When we discussed the importance and impact of apartment signs on a property's ROI, their marketing manager Chris Garcia stated, "We view monument signs, as well as all building signs, to be extremely important when we take over a new property. This is the first impression that potential renters have of us and we want to capture their attention."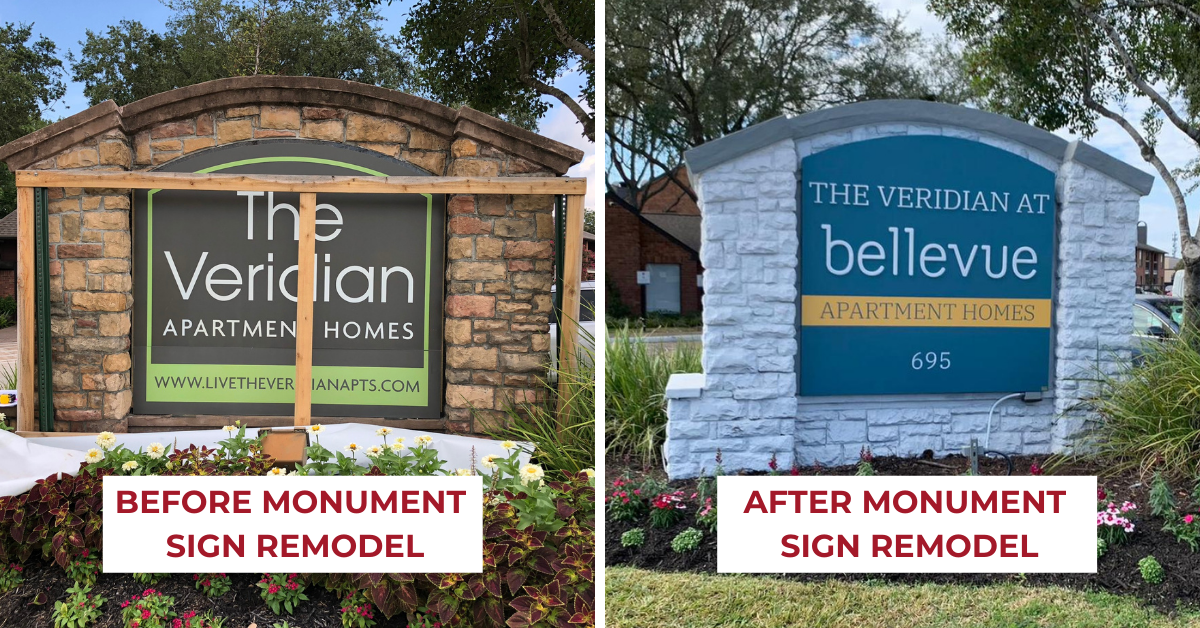 Additional research further supports the fact that property signs have a direct impact on your business. One survey conducted by FedEx found that 68 percent of consumers believe that a business sign reflects the quality of its products or service. Even more telling, more than half of those surveyed admitted that poor quality or outdated signs can deter them from ever entering a business.
What does your monument sign reveal about your apartment complex? That it is old and outdated? Or that it is fresh, in touch with the lifestyle desires of today's apartment renters, updated and well-maintained?
Are You Making the Best First Impression?
Much like the online dating scenario, if your marketing budget is focused solely on your online presence (which is still valuable) but fails to address that outward, physical "first impression," you risk losing potential renters who are too disappointed in what they see outside to ever take the chance to get to know the "inside" of your community.
Signs should be an integral part of any apartment rebrand, whether you have recently assumed ownership, or have made capital improvements and are ready for a new look in marketing. Invest early in new apartment signs, especially your monument sign and any street-facing building signs.
Your monument sign should paint a clear picture of what potential renters can expect from your property. When shopping for a new place to live, a prospect may pass by your property and see your monument sign several times before visiting your leasing office. Is your sign attractive, easy–to–read and well-made? For an existing property that has undergone improvements, does your sign signal a noticeable change? What "first impression" does your sign give of your business?
In the Dallas-Fort Worth market and other Texas metros, existing properties are up against the vast competition of new builds. In Dallas alone, at least 20 high-rise buildings with more than 6,000 units were under construction as of February 2020. The competition is fierce. Don't let an old, dilapidated sign cost you business.
If your signs don't match what people see on your website, it destroys your credibility. But we can help. Whether you've recently undergone capital improvements and are rebranding or are taking over ownership of an existing property, you can't afford to wait on replacing your monument sign and other property signs. We streamline the process for you, taking full responsibility of your entire sign project, from due diligence to installation, so that property signs are one less thing for you to worry about.
Learn more about the sign rebranding process with FSGS here.
---
Tags
The Ultimate Buyers Guide
---
Complete the form below for a free guide you can use to prepare before our meeting.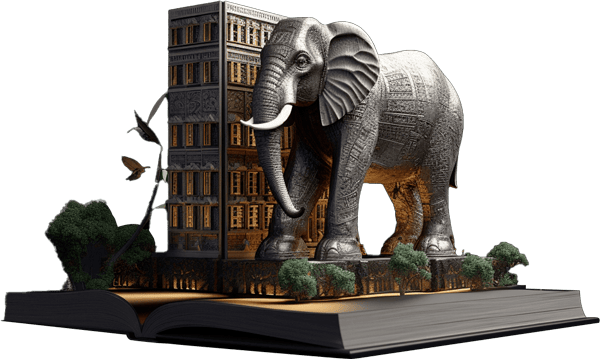 Get Our Free Guide to Buying Signage for Your Business
---
---