You Don't Just Need a Sign Vendor. You Need a Partner!
---
---
You might say it's our goal to make your job easier. Sales pitch? Perhaps. But we mean it!
Long before property signs are ever installed or a design concept has even been presented to the client, Team FSGS is already hard at work on the job. Whether you need signs for new construction of a property or you're taking over and rebranding an existing apartment community, our team has experts who will be with you every step of the way.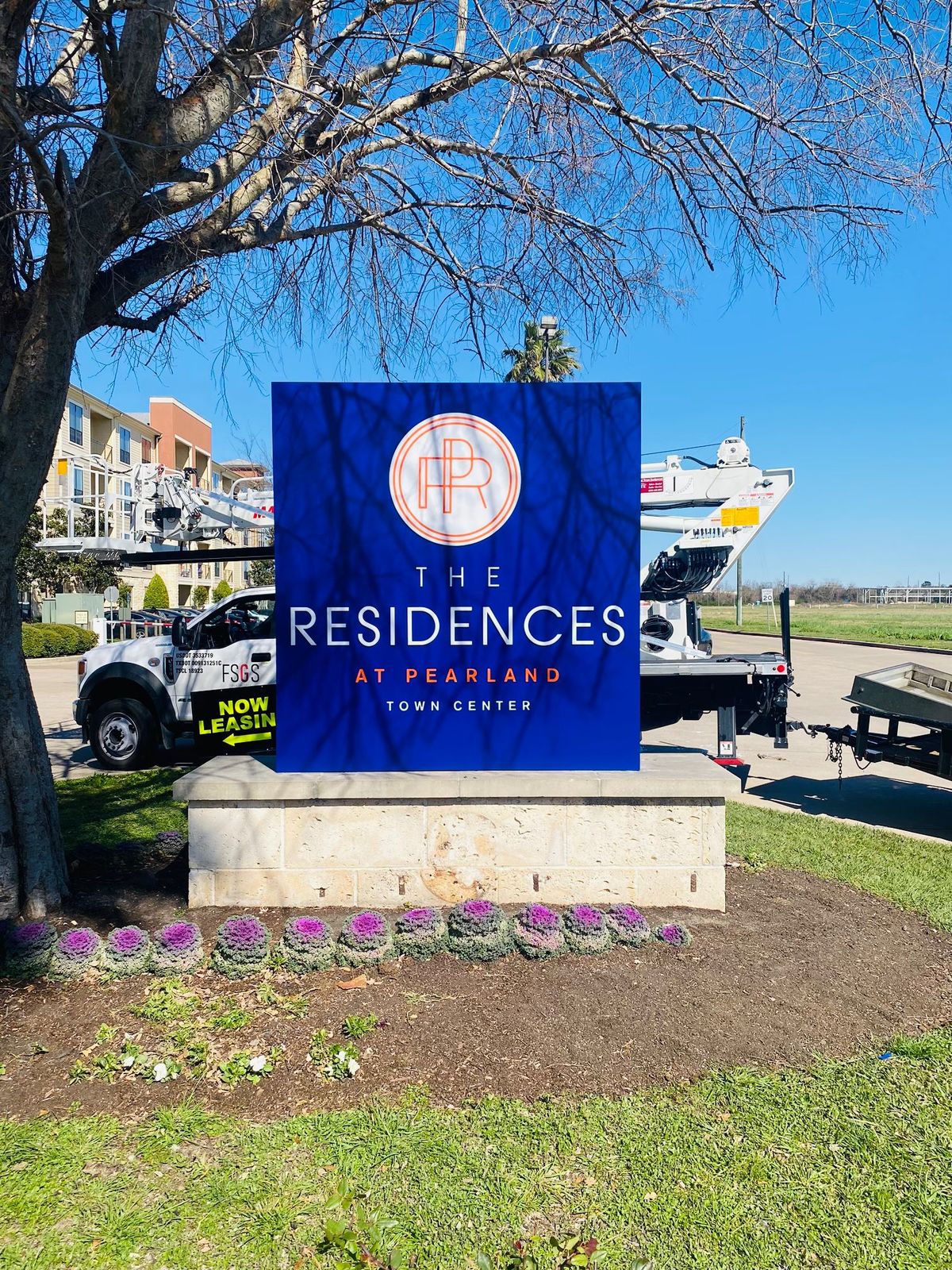 Want to understand more about the added value you get when you choose a partner like FSGS? Take a look inside this recent project.
CAF Management contacted FSGS regarding a property takeover in Pearland, Texas. During the due diligence process, before our client ever took ownership of the property, Luke Dreiling, Client Experience Manager, traveled to Pearland to perform a due diligence survey. This survey is essential in providing our clients with an accurate quote for their budget.
On this particular takeover and rebranding project, the actual name of the property remained the same: The Residences at Pearland. However, all logos and branding would be changing, which meant monument signs, exterior building signs and leasing office signs would need to be replaced. Not only did existing signs have the old logo, but they were also worn and faded. It was well past time for new signs!
From survey to completion, the project lasted approximately 12 weeks and included proposals, design development and approval, city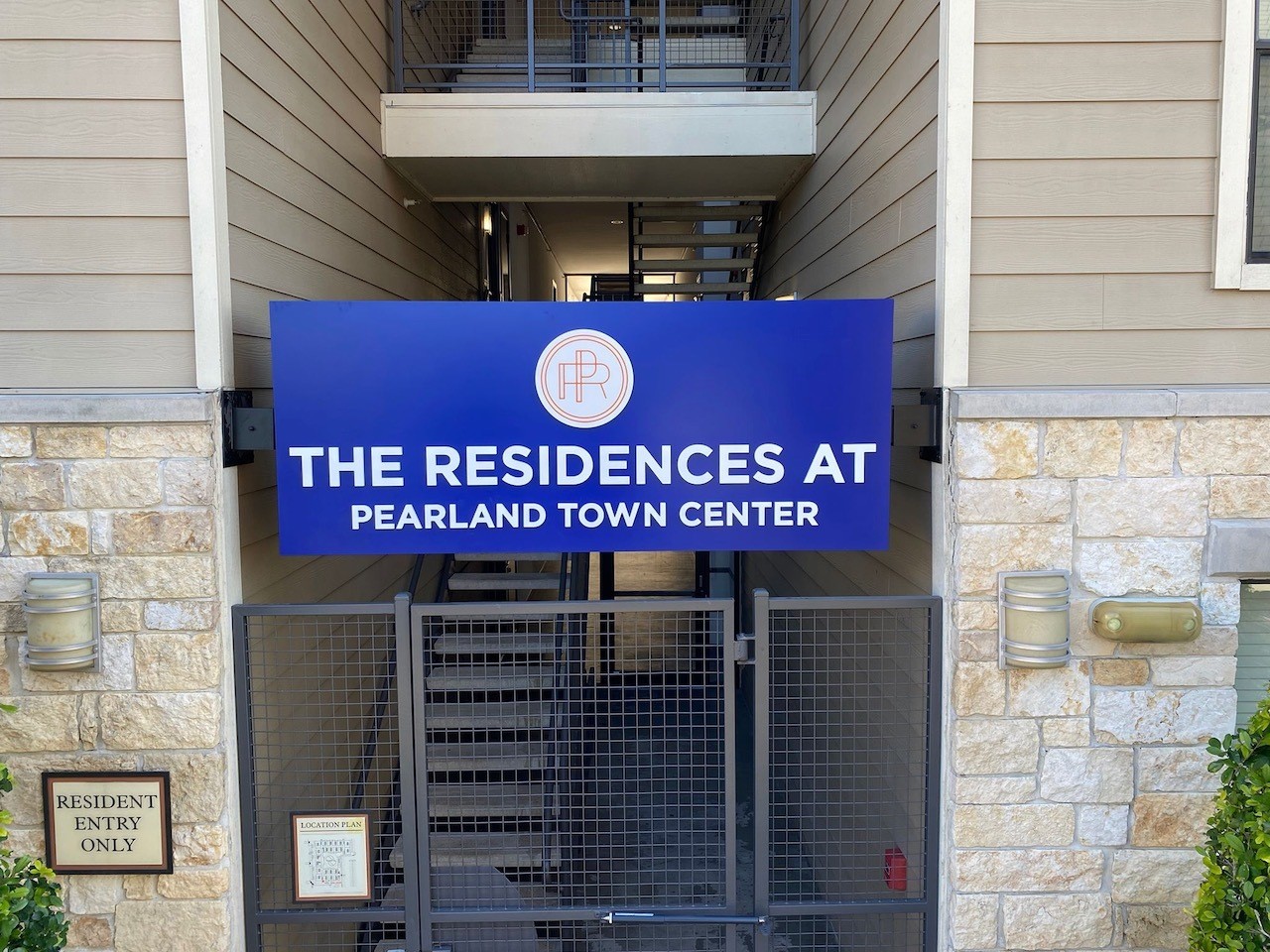 permits approval and even getting permit approval from the Home Owner's Association (an extra step for this particular community). In addition to the permanent building signs, we also provided the client with advertising banners for the building and roadside signs to advertise new ownership. Those marketing signs create the "wow factor of new ownership on day one," says Dreiling.
Another challenge on this project was the sheer size of the two leasing office signs—each a whopping 42-feet in length! It was a big job, but we got it done!
Overall, this was a smooth process, but it wouldn't be a true project without a few challenges for our designers, fabricators and installation team! First, there were some existing signs hung in breezeways and installed with a different type of hardware. "The survey had to be done just right to ensure the new signs would fit between the walkway," Dreiling explains. Our designers worked diligently to create a design that would work for the unique placement of those particular signs.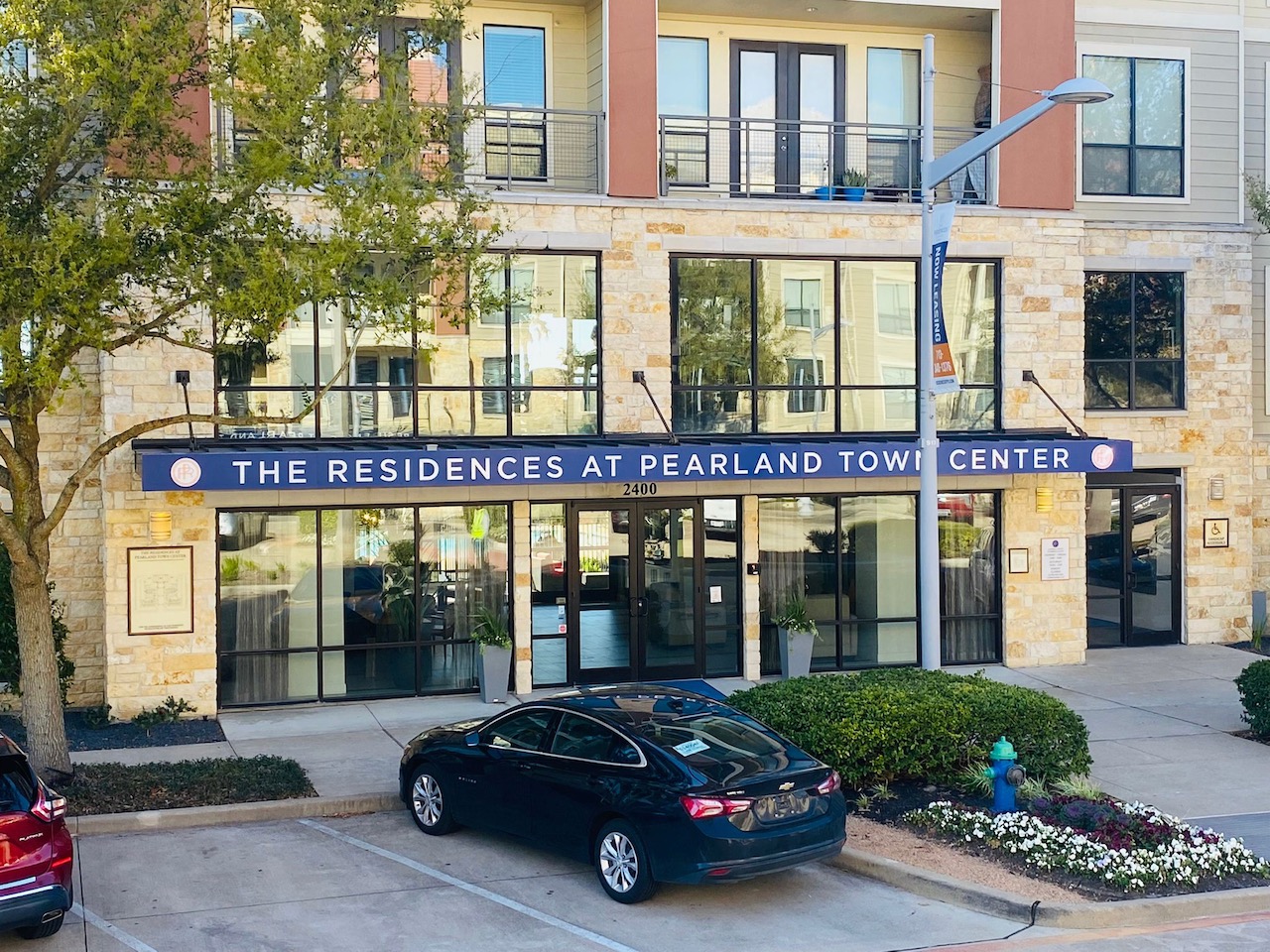 As any multifamily property owner knows, the takeover and rebrand of an existing property can come with a multitude of potential headaches. Our goal is to lighten the load and simplify the process as much as we can. At Team FSGS, we are committed to reliability and responsiveness. We are proactive in identifying possible obstacles and challenges from the get-go, rather than reacting to those challenges when they arise.
To the same end, we are dedicated to always keeping our clients updated on where their project is in the process. As a result, we can take a big project that often comes with a big headache and turn it into a seamless, stress-free experience for our clients. "It's our culture of excellence that trickles down from leadership to every member of our team," says Dreiling. "We are top performers and expected to work that way in every aspect."
Property management companies don't just need a sign company. They need a true partner—a team of people who will walk with them from start to finish on any job, ensuring nothing is overlooked. Are you ready to meet that kind of partner? Reach out and let's start a conversation. We'd love to talk to you!
---
Tags
The Ultimate Buyers Guide
---
Complete the form below for a free guide you can use to prepare before our meeting.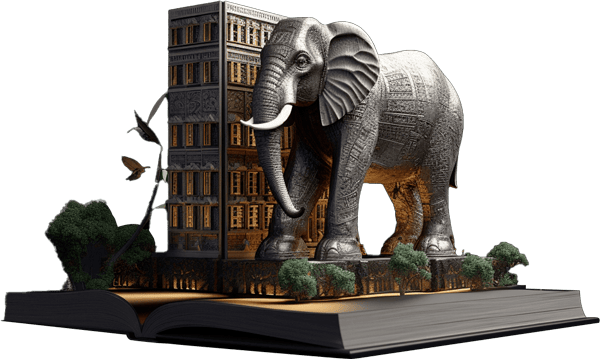 Get Our Free Guide to Buying Signage for Your Business
---
---