Multiple Property Rebranding Projects? Simplify Your Sign Procurement with FSGS
---
---
Nicholas Residential, a privately-held real estate investment firm headquartered in Dallas, is a rapidly growing company that has acquired 14 apartment properties across the Sunbelt in just four years. Focused on improving the quality of life for tenants and bringing positive change to the community, Nicholas renovates and rebrands each property it acquires.
Six properties owned by the investment firm are located in the Houston, Texas area. As with each property it acquires, these six apartment communities required a total rebrand, including giving each property a new name and a new look with updated monument and property signs.
Without a dedicated team focused on the rebranding strategy, the scope of work for the sign procurement project was enormous — almost paralyzing — for our client. After over a year with little progress made, FSGS stepped in to help.
Our Sign Procurement Process
We kicked off the project by touring each of the six properties in Houston. Our team took a detailed inventory of every sign on every property, identifying which needed to be replaced with a rebranded sign, or simply replaced due to the degraded condition of the sign or city compliance.
Next, our team of branding experts developed a proposal to standardize brand colors, fonts, sizes and layouts for all signs. To simplify this process — and to allow for easy duplication across any properties our client acquires in the future — developing a standardized look and messaging for signs was essential.
Once the proposal was made, materials and finishes selected based on the budget, and the plan approved, our design team got to work on development while our project managers began the process of obtaining permits for all monument signs. The entire project — a total of six monument signs and nearly 400 property signs — was completed in six months.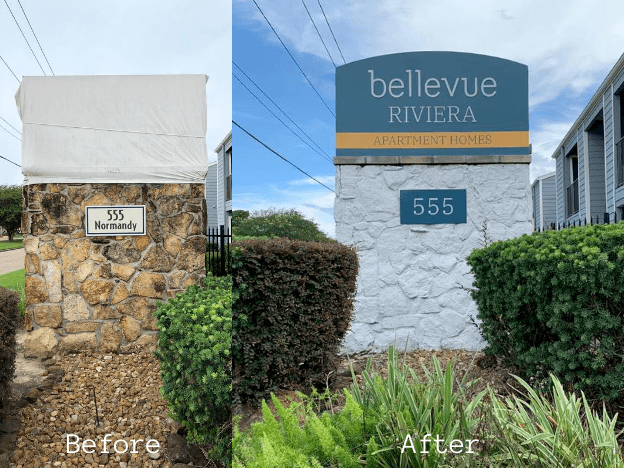 "Working with FSGS has been an incredible pleasure. This was my first experience replacing monument signs on a large scale and I wasn't really sure what to expect. Working with different municipalities across our portfolio is a big undertaking and I was scared to make costly mistakes, but it turned out that fear was baseless because Cristina took care of all of those details for us. Her proposals were thorough and consistent and because of her effort, we now have a completely standardized signage package for our brand for every acquisition moving forward. They've truly exceeded our expectations. We highly recommend their services."

– Chrissie Rivers, Regional Marketing Director
The goal of this project was not only to create beautiful new signs for the updated properties, but to develop and standardize a process that can be easily duplicated as our client continues to invest in, acquire, and renovate additional properties. Using our streamlined process, we were able to save our client approximately 5 weeks of leg work and an average of $3,000 per property. Between all six of their properties, we saved them nearly $18,000. They also have the extra bonus that updating signs for each new property acquired in the future becomes a simple, plug-and-play task, with no need to reinvent the wheel each time.
The rebranding of apartment properties is common when the property is acquired by a new owner, but taking care of the details involved in a total rebrand can be overwhelming. FSGS doesn't just design and produce signs, we can step in and take the reins from the start of a rebranding project, providing direction, consulting on the process, identifying preferences, and recommending standard colors, messaging, fonts, sizes, and more. And our standardization process isn't limiting for clients: any sign can be customized as desired to maintain the unique identity of each property.
How many hours could your property management or commercial real estate investment firm save with a standardized sign procurement process that could be applied to each new property? Contact us today to learn more about how we can help you by creating a full branding package for your sign projects.
---
Tags
The Ultimate Buyers Guide
---
Complete the form below for a free guide you can use to prepare before our meeting.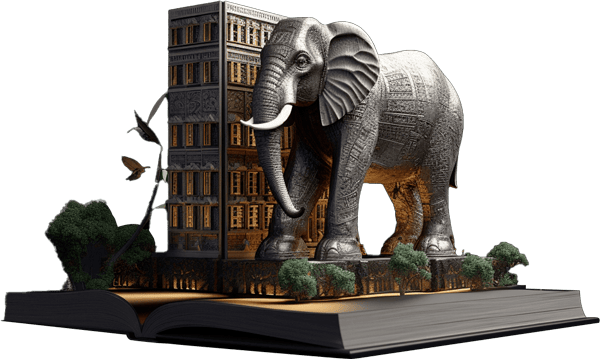 Get Our Free Guide to Buying Signage for Your Business
---
---