Sign Codes, Standards and Regulations: Why It Matters for Your Property
---
---
Imagine walking into your building for the first time. Would you be able to easily navigate through the building without getting frustrated or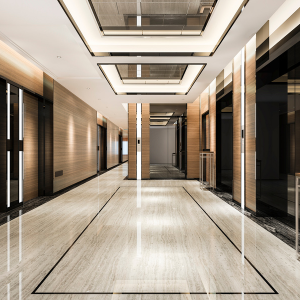 getting lost? What about in the case of an emergency? Could you find your way safely to an exit?
We all overlook the signs around us in familiar environments, but how would you find your way through an unfamiliar environment without signs to point you in the right direction?
Signs aren't just decoration — although well-designed signs add elements of art and architecture to a space — they are a necessity for any friendly and accessible built environment.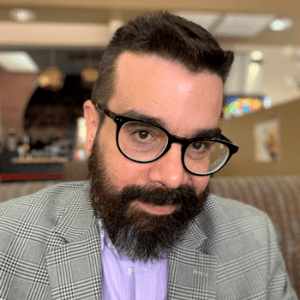 As a student of architecture, two weeks before his final thesis presentation, Luis Aparicio, FSGS Senior Designer, was told that if his building did not comply with ADA standards and building codes, he would not graduate. "I dove in and made it work and graduated, never expecting that I'd become interested and continue working on compliance and accessibility," he says. Then it became personal for him. "My mom was disabled, my child was born with a disability, and now I am disabled myself. It became an opportunity for me to understand the needs of accessibility for people and how important it is for design to be inclusive."
As Senior Designer at FSGS, Luis helps to ensure our clients' signage isn't just aesthetically pleasing, but also compliant with all building codes, ordinances, and ADA standards. At FSGS, we take on the responsibility of compliance, so you will have one less thing to worry about. Our designers are amazingly skilled artists, but they are also well-versed in the intricacies of ordinances, regulations, building codes, and ADA compliance for signage and will ensure that your building signs meet all standards and regulations.
"We can contribute our expertise in the early stages of a project, working with architects to ensure they have made considerations for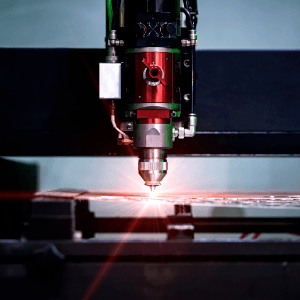 compliant signage," says Luis. Bring us in too late in the project, after construction has begun, will make it difficult to give you the signs you want (and need), as well as leading to increasing costs for the building owner.
Our team will design all signs to incorporate our clients' branding and complement the building's existing architecture and interior design. All ADA signs are fabricated using our new Thunder Laser Nova 51 130w laser cutter to ensure a clean cut and a polished edge on every sign. Keep reading to learn more about the ordinances and codes that apply to signs and how our design team works to incorporate compliance and design.
Ordinances
These rules come from cities, towns and municipalities and are sometimes called "City Sign Codes." Ordinances that apply to building signage may regulate:
• Number of signs
• Square footage of signs
• Allowed height
• Lighting methods
• Materials
• Setbacks, etc.
Building Codes
These regulations are set by states (and some cities) and are intended to safeguard the public health, safety, and general welfare of the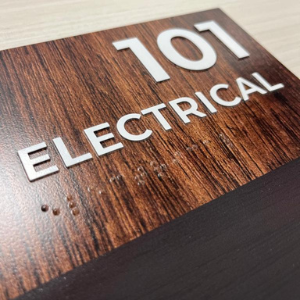 occupants of buildings and structures. Signs that are required by codes include:
• Building address
• Occupancy load
• Illuminated exit signs
• Raised character and braille exit signs
• Stairway identification signs
Standards
These are the general "how-to" guidelines for executing codes and include ADA Standards for Accessible Design, Uniform Federal Accessibility Standards (UFAS), Accessibility Standards set by the State, National Fire Protection Association (NFPA) standards for electrical and fire safety, OSHA, DOH, ANSI, etc. Examples of signs that may be required by standards include:
• Electrical safety signs (NFPA)
• Fire safety signs (NFPA)
• Work safety signs (OSHA)
• Accessibility signs (ADA)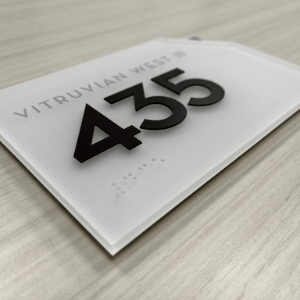 ADA compliant signage isn't only important for avoiding fines, but it's a simple way for building owners to ensure all guests and visitors are welcome and their needs respected. ADA compliant signage means that people living with a disability are easily able to find their way through a building or public space. (Read more about how to ensure your building signs are ADA compliant in this blog.)
There are differences to understand between codes and standards and all codes, ordinances, and standards can vary by local jurisdiction and building usage. As a building owner or architect, you can never be too compliant. It's always better to err on the side of caution.
Before getting to work on the designs for any sign project, we will ensure we have done all due diligence in knowing exactly what codes and standards may apply to your specific project. This is an important step to ensure all new signs are fully compliant so there are no issues or delays when installing your signs.
Don't wait to start thinking about signs for your project — contact FSGS today to learn more about how we can create beautifully branded signs that adhere to all regulations, standards, and codes.
---
Tags
The Ultimate Buyers Guide
---
Complete the form below for a free guide you can use to prepare before our meeting.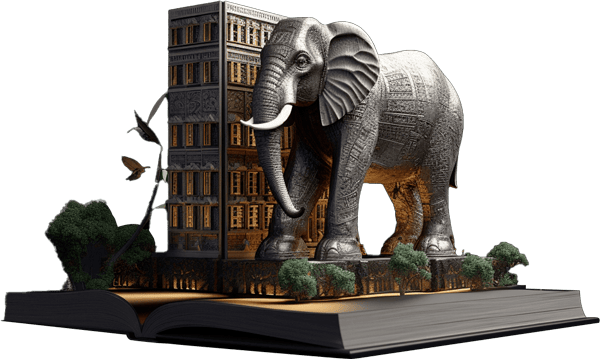 Get Our Free Guide to Buying Signage for Your Business
---
---