From the Ground Up: Bringing a Monument Sign to Life
---
---
Have you ever stopped to consider what goes on behind the scenes in the creation of a monument sign? How do we get from Point A (vision) to Point B (completion)? What about the level of expertise and craftsmanship it requires to design, manufacture and install a monument sign complete with all the details?
Sign making at FSGS is unlike anything you'll see at any other company. As a one-stop-shop, we have complete control over the final product, from the time your sign is designed until it is installed. "We're taking sign building to a fine art level," says Ed Sabin, Fabrication Manager. "We try to give you a sign that is really a work of art."
There is a certain level of craftsmanship that is required to make the kinds of signs that we do at FSGS, like monument signs. "Some of our guys have 18 years of experience working with metal and aluminum," says Sabin. "It's half art and half science when they're working with the aluminum, welding and painting."
We documented the entire process of the making of a monument sign for The Ashley at Bluffview, an apartment community centrally located in the heart of Dallas. The community is not new but recently underwent a complete rebrand by our client, the Kalt Group. With no existing monument sign, The Ashley lacked the curb appeal necessary to grab the attention of prospective tenants. That's when FSGS stepped in.
Here's a behind-the-scenes look at the process of bringing this monument sign to life, quite literally from the ground up.
Step One: Planning and Proposal
Immediately following our initial call with a client, our team will go to work with the initial planning steps of any project. These crucial foundational steps include a thorough site survey, research on ordinances within the city and the development of a work scope based on the client's budget.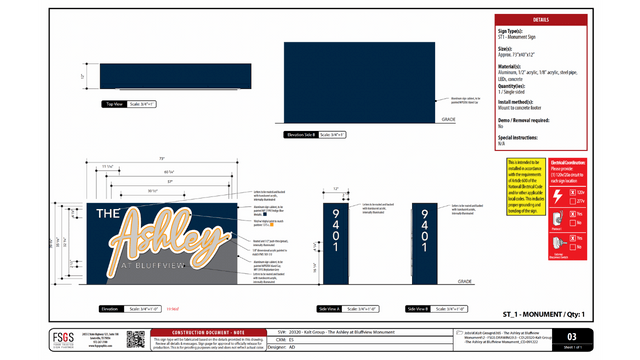 Step Two: Graphics and Design
Once the work scope is approved, the project is handed off to our Graphic Design department. The artists in this department work closely with our clients to bring their vision to reality, from the initial concept drawings to the final approved design.
Step Three: Permitting
Upon design approval, we move into the permitting process with the city—a process that can take four to 12 weeks. This is the final step before our fabrication department steps in on the project.
Step Four: Fabrication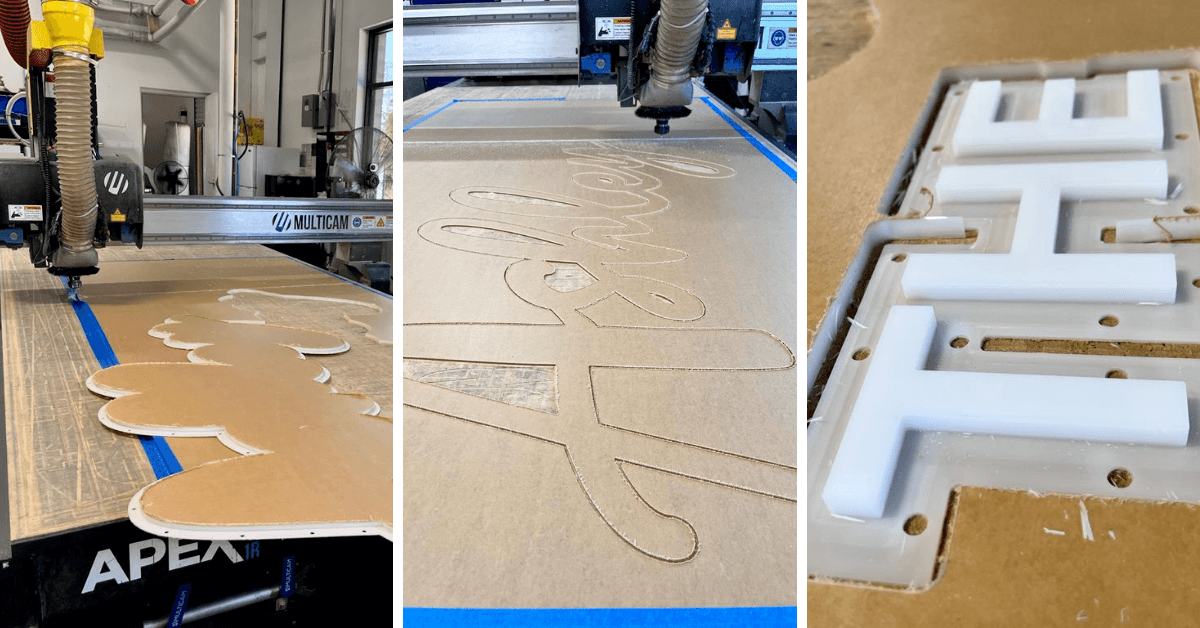 During fabrication, what started as a vision and was then put to paper in design will begin to take shape and come to life. Fabrication includes router-cutting of aluminum pieces and welding, followed by paint and priming.
"Seeing it come through as a two-dimensional drawing and watching it begin its life as a three-dimensional project is fascinating," says Sabin. "A lot of times, you don't see that dimension in the drawing—you just can't image it until it starts coming together."
Step Five: Assembly and Quality Control Check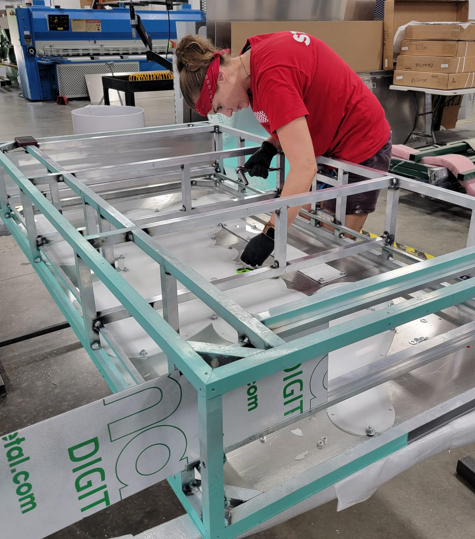 Up next is assembly, where we'll ensure the sturdiness of the sign and then pass it through a quality control check. During QC, we make sure all electrical components are in working order and that the finished sign is just as proposed in the construction document.
The entire fabrication and assembly process can take eight to twelve weeks, depending on the complexity of the project.
Step Six: Installation and City Inspection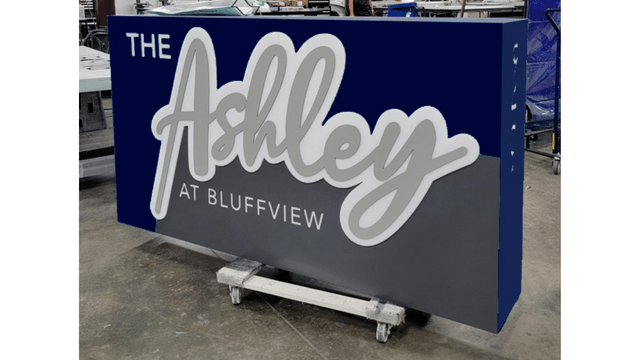 Now, the sign is ready to be moved from our facility to its permanent home on your property. Our installation crew will clear and prep the site, pour the concrete foundation and move the sign into place. Once installed (a process that takes two to three days), the sign is ready for city inspection.
Final Step: Quality Control Check and Client Sign Off
And the final step: one last quality control check with our client. The installation process takes two to three days and upon completion, the new monument sign is ready to stand as a beacon, welcoming visitors and prospective tenants to your property.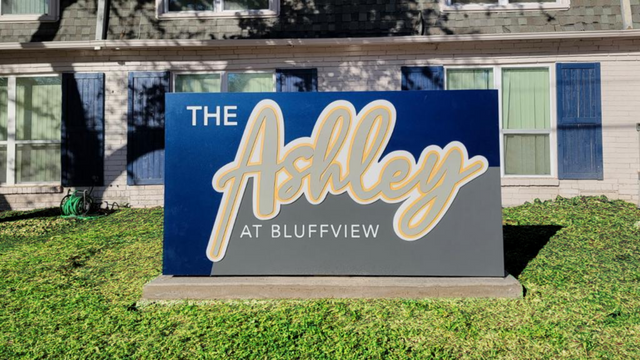 It's easy to get excited about the final product but understanding what must go on behind the scenes is essential for architects, designers and building owners. We cannot stress enough the importance of bringing your sign partner in early on in your project. From design to installation, it could take months to complete a monument sign. Let's talk early so our team can get to work knocking out the various steps required to bring your monument sign to life.
"With FSGS, anything is possible," says Sabin. A lot of people think all signs have to be a certain size, shape or color, but "at FSGS, that's not true. You can give us anything and we can build it!" And we'll do it all with a level of old-world craftsmanship that is unmatched in the industry.
---
Tags
The Ultimate Buyers Guide
---
Complete the form below for a free guide you can use to prepare before our meeting.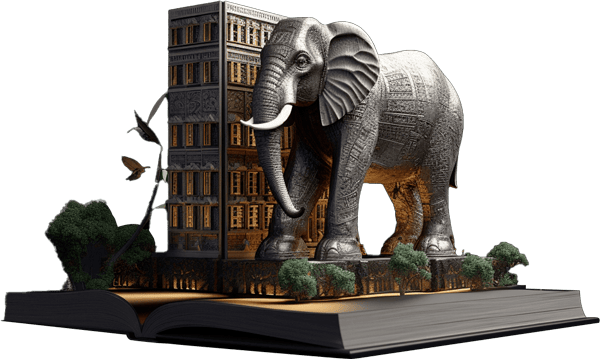 Get Our Free Guide to Buying Signage for Your Business
---
---