Design-Build Services: The Process of Integrating Signs
---
---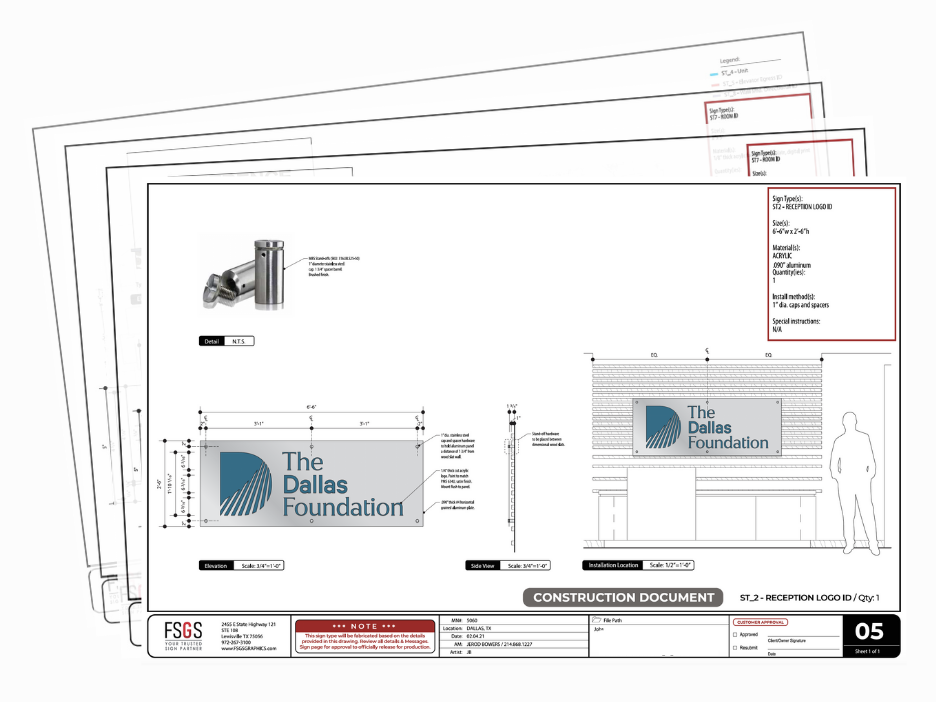 Architects and designers put their hearts and souls into creating beautiful spaces. As construction begins, they see that vision come to life. As part of this process, building signs are a necessity, whether it's an office tower, multifamily apartment building, or retail space. Unfortunately, in many cases, those signs are the last piece of the puzzle as a project nears completion, and signs are quickly put up to meet regulations and requirements with little thought to design.
At FSGS, we believe signs should be an integral part of any building's design and work closely with architects and designers to ensure signs aren't carelessly installed in ways that detract from the architectural vision of the project. Our team can step in before you even break ground on a project, creating a complete signage package that becomes part of the design of the space, rather than an afterthought.
Design-Build Services

at FSGS
Design-build services mean a single team completes the sign project from conception through fabrication and installation. The alternative approach, which utilizes various teams from different companies to complete the project, can result in delays and costly errors.
FSGS design-build services eliminates the middleman. Our capabilities to manufacture and install our products in-house enables us to institute strict quality controls and better manage the customer's timeline. Other benefits of design-build include:
Single point-of-contact

More accurate budgeting

Control over unexpected costs

Streamlined

scheduling

On-time delivery

Delightful

finished

product
The Design-Build Process
From start to finish, our design-build team, including Jerod Bowers, Design Director and Environmental Graphic Designer; Elham Naghian, Creative Designer; and Jesse Brandon, Technical Graphic Designer and Permit Tech, will work closely with architects, designers, and tenants to create a cohesive design theme throughout the building.
"For the client, the value of having a true environmental graphic designer on our team is immeasurable. Jerod is able to speak the language of the architects and provide insight and recommendations based on the architectural and design plans for any project. Most importantly, he can provide forethought early in the process to what might be required in terms of blocking, power supplies, etc.," says Russell Hagg, AIA and architect at GFF Interiors.
Here is an overview of the design-build and tenant finish-out process at FSGS.
1. Identify the needs. Meet with the client, architects and interior designers to understand the client's specific needs, project goals, branding requirements and other factors that may impact the sign program. During the first stages of this process, we would carefully survey floor plans to identify traffic flow patterns and decision points and research local codes or zoning regulations that may impact the project.
2. Set the Budget. Advise the client on expected costs for the sign program, including planning and design, fabrication, and installation. Regardless of the client's budget, our experienced professionals will work to develop the best sign solutions to fit the client's unique needs.
3. Select Product and Design. Work closely with architects and interior designers to select sign materials and create a design concept that meets the needs of the project while aligning with the client's branding objectives.
4. Create Programming. Identify proper placement of signs throughout the facility, keeping in mind the nuances of ADA and code compliance issues that may arise.
5. Complete Fabrication and Installation. Our in-house design and manufacturing team will fabricate all signs in-house, followed by professional and careful installation of all interior and exterior signs.
Pegasus Park Design-Build and Tenant Finish Outs

Currently, we are working with GFF Architects to plan and develop signage for Pegasus Park office tower, located just minutes from downtown Dallas on the 23-acre Pegasus Park campus. Pegasus Park, including its 18-story office tower adorned with the iconic red-winged Pegasus symbol, was originally built for the Zale Corp in 1970. It was later purchased by Mobil Oil Corp in 1981 and became home to the Exxon Mobil complex. Most recently, renovations are underway to turn Pegasus Park into a mixed-use development that "brings together the non-profit community, biolab and medical industry leaders to create a campus for innovation," says Hagg.
FSGS is proud to be part of the Pegasus Park interior design team, working closely with Hagg and other GFF architects to create sign programming for the common use spaces of the building, as well as creating sign packages to finish out leased spaces for the tenants that will occupy the building. To date, FSGS has completed the finish outs on two leased spaces and are working with the third.
Our goal with each finish out is to create a cohesive feel throughout the tower, with common color pallets and materials used in each individual space. For the common spaces, our design incorporated elements of wood, which is also featured in one of the tenant's brand materials.
"Each tenant brings its own branding, language and design to the space," says Bowers. For those who select to work with FSGS, we will create a sign package to finish out their leased space, including reception desk logo signs, offices, specialty spaces and workstations. All sign programming for the individual tenants will be within the scope of that tenant's brand requirements and budget, while also incorporating color pallets and materials of signs designed for common spaces, including the main lobby and conference rooms.
"FSGS understands the design vision for the [Pegasus Park] campus," Hagg says. "Working with a sign manufacturer, that also has experience in design, as the process begins helps to create a cohesive end product. I don't think a lot of people think of signage companies as being a partner in the design process and the benefit that can have on the end project. That's where Jerod's team has been very good. He's not just trying to sell signs; he wants to build a relationship. And he knows what he is talking about."
To learn more about sign programming services at FSGS read this article, or contact us today!
---
Tags
The Ultimate Buyers Guide
---
Complete the form below for a free guide you can use to prepare before our meeting.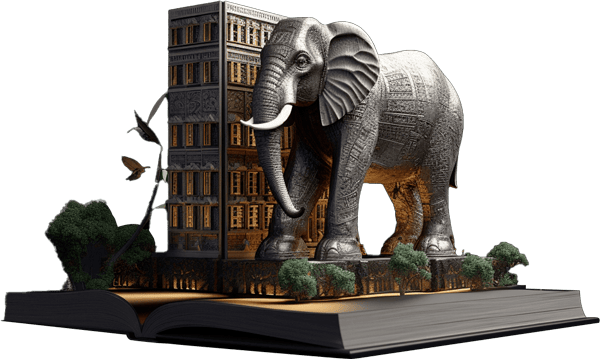 Get Our Free Guide to Buying Signage for Your Business
---
---